ASCWMS Base Package
 
This SQL or Oracle -based warehouse management system includes the ability to interface to other databases. Briefly, other features include:

Receiving Module
Receive all inbound products against open Pos, ASNs, blind receipts, etc.
Compares expected receipts with received goods to report discrepancies.
Directed putaway to tell operator where to put received goods.

Picking Module
Optimized picking for efficiency and accuracy.
Directed picking to tell operator what to pick and the location from which to pick it.
Directed picking of both raw materials and finished goods.
Schedule customer orders, pickers, and dock doors.
Support for batch and wave picking, as well as many other picking variations/combinations.
Generate bills of lading, compliance shipping labels, and shipping reports.
Supports kitting and critical cross-docking.

Inventory Management Module
Zone control, replenishment, moves, repacks, and more.
Provides lot traceability, code date and expired date logic for FIFO.
Directs operators to conduct cycle and physical counts as part of regular daily work.
Features a no-shutdown "floating physical" count.
Extensive quality control functions.
Hazardous materials handling functions.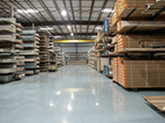 System Manager Module
Real time operator direction and database updating via RF (radio frequency) portable data terminals.
Bar code label design and printing.
Standard reports and built-in customer report generator.
Wireless eDocuments for MSDS, QC, Production, and more.
Color coded file views, tree views, user-defined views, and more.
Customization through configuration and setup utilities.
Database utilities, security, and electronic help.
Business Gateway functions for import/export, scheduling, reporting, housekeeping, etc.

Additional Modules Available
eBusiness - for internet connectivity and ecapabilities.